music programs for kids!  
DRUMMING / SINGING / MOVEMENT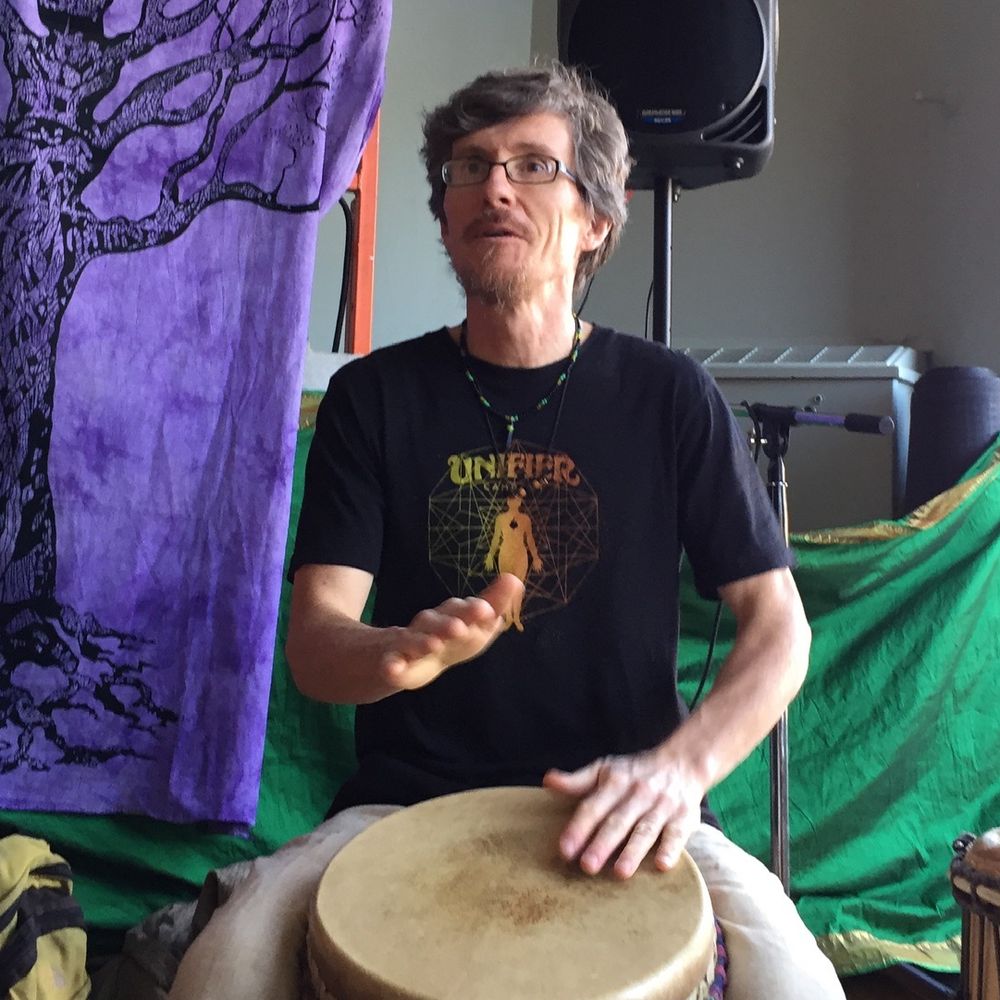 MUSIC FOR ALL AGES!
Glenn Smith currently offers a variety of classes for kids.  All programs are flexible to suit different age ranges.  These are not performance-oriented, but rather a forum for kids to find their own voice in a playful context.  Classes can be from 1/2 hour to 1 hour.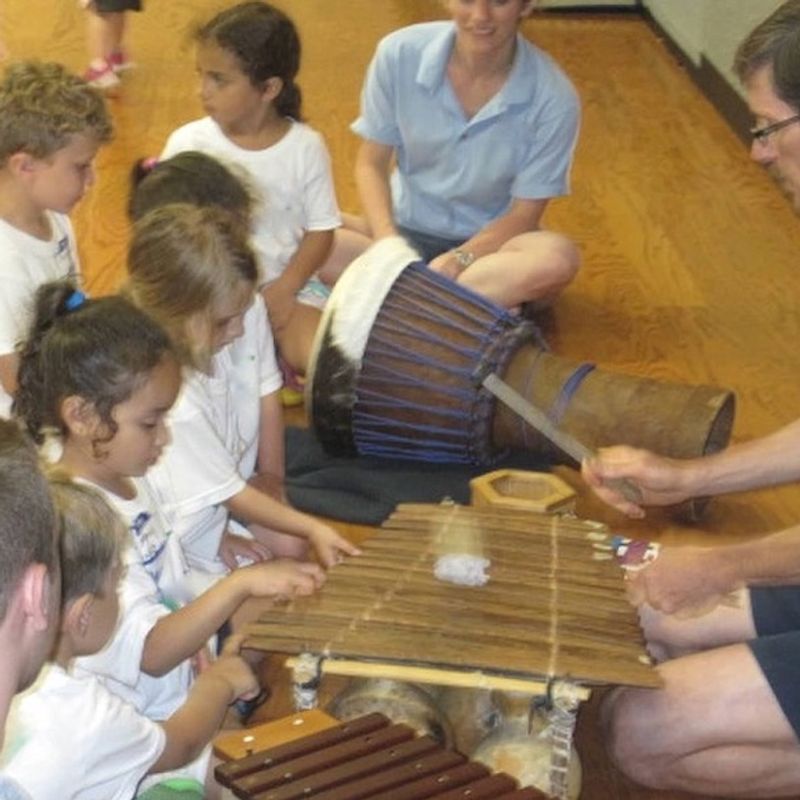 the teachers say:
"It is evident to me that Glenn (Mr. Smith) loves music and enjoys sharing his unique methods, involving movement and student made rhythm for creating "instant choirs". His enthusiasm for music transfers to his students and much is learned/shared in the process."
Greg Brown, music teacher, Live Oak Elementary School District, Santa Cruz, CA
"I enjoyed having Glenn work with my fifth graders. His instant choir program has enriched my classroom. It is easy and fun to implement his ideas. Glenn has great rapport with the kids and a gift for inspiring them to explore and create spontaneously. Thank you, Glenn!"
-Krista Williams, teacher, Chartwell School, Seaside, CA
the kids say:
"You rock! I really enjoyed your visit. I really liked making the song up. I hope you can come back soon."
"I liked making the song and had a lot of fun jumping up and down!"
"I had fun making music with our feet and hands!"
"Thank you for coming to our school. We had fun singing and writing songs. You are an awesome musician."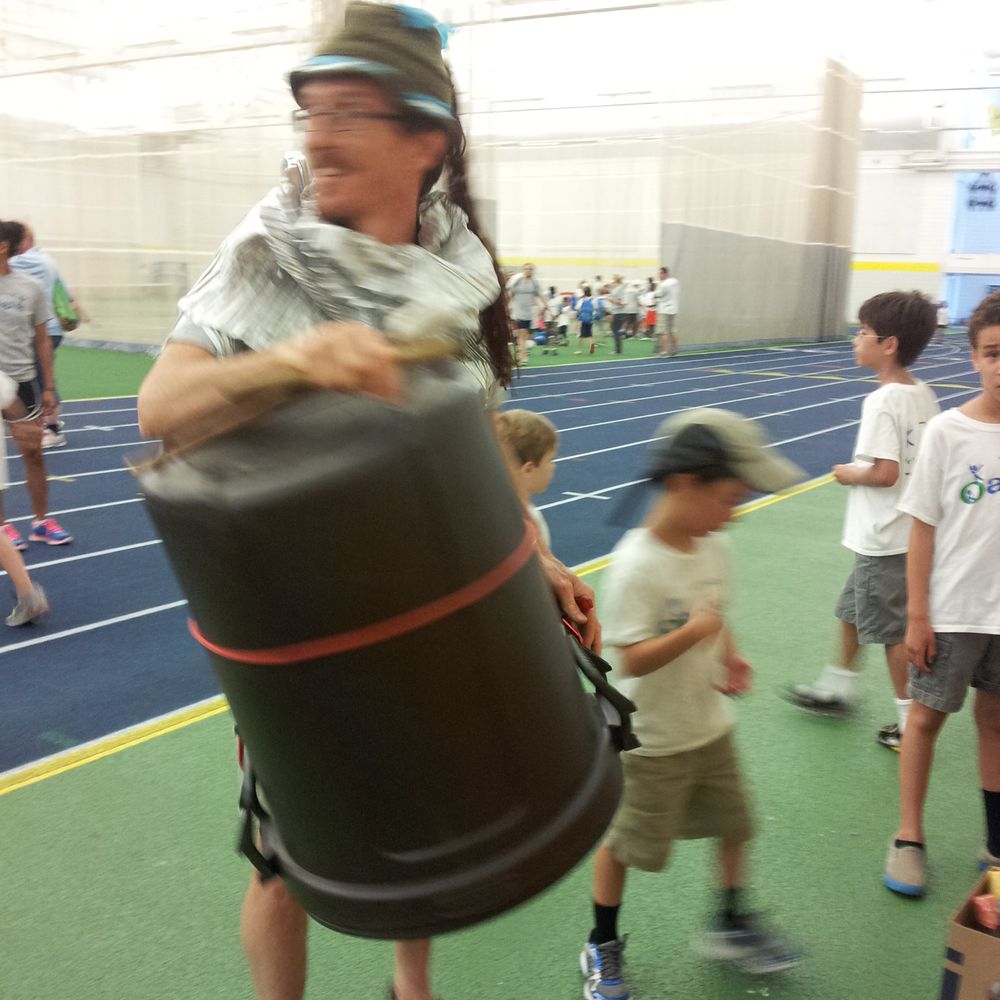 DRUM IT UP / DANCE IT DOWN!
For drumming and movement classes, I provide each person with some sort of percussion - drums, shakers, bells, etc.  I then lead group drumming through a series of exercises.  For older kids, I give them opportunities for soloing and suggesting parts.  I also offer opportunites for some kids to do movement, both in response to rhythms and leading the rhythm.  And I can also lead movement for all, especially for younger kids.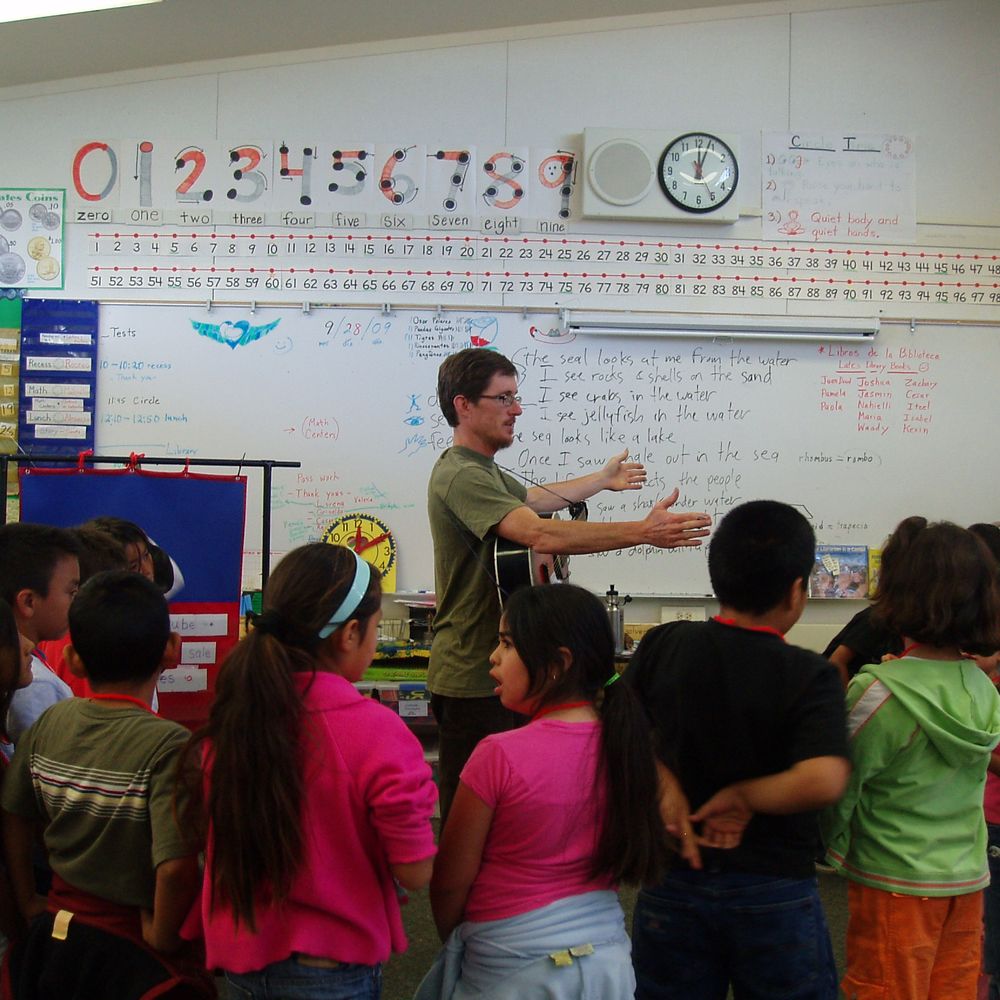 INSTANT CHOIR PROGRAM
Call-and-response vocals with movement
I typically begin with the whole class singing together. I lead the group by singing a short melodic or rhythmic part, accompanying these with hand and body movement to accentuate the part. The kids can then mirror the voice and movement back to me, and I immediately give them a new part.
Circlesong
This method involves small groups singing different melodic or rhythmic parts at once, overlapping to form a multi-textured chorus with interlocking parts. I will typically divide the kids into 3 or 4 separate groups. I start with one group, giving them a phrase to repeat. I then add the other groups one by one, giving them a complementary part, gradually building a 3 or 4 part chorus. I can then direct certain groups to drop out for a time, or to get softer or louder. I can also direct the whole group to increase or decrease volume or tempo. I may also direct movements to accompany the part.  For older kids, I may give them the opportunity to create their own parts, or lead a section.  

Songwriting
We begin by taking suggestions for a song topic – an environment, activity, animal, or idea. Some examples include: the ocean, the forest, birds, waking up, hiking, etc. We then divide into groups, each group working to come up withat least a few sentences about this topic. While I play a simple musical phrase, the kids can then work on adapting their words to the music, and have a part in creating a song!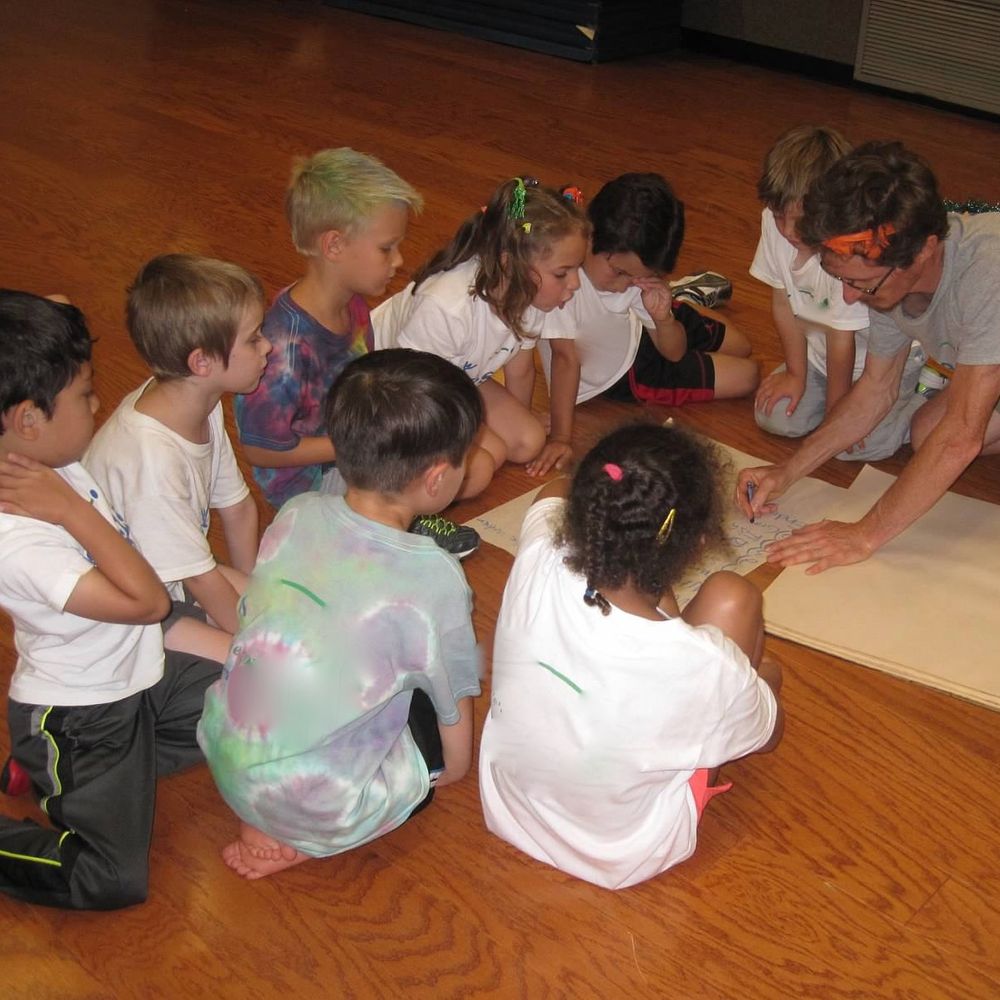 GOALS AND VALUES OF PROGRAMS:
-cooperation / team-building - playing a part to make a whole
-trusting intuition and the creative impulse
-sharpening listening skills
-adds variety to other programs
-tones motor performance
-preparation for cognitive learning
-unique musical and kinesthetic experience
-enhancing self-esteem, especially for those who do not excel in other areas
-expanding possibilities of creativity and expression
-accessibility - making music a part of everyone's life
-experience joy of singing and the fun of creating
-way to express feelings and emotions artistically
-use of the imagination
-finding unique voice
-opportunity for leadership
-creating complexity by combining simple parts
-learning rhythm and polyrhythm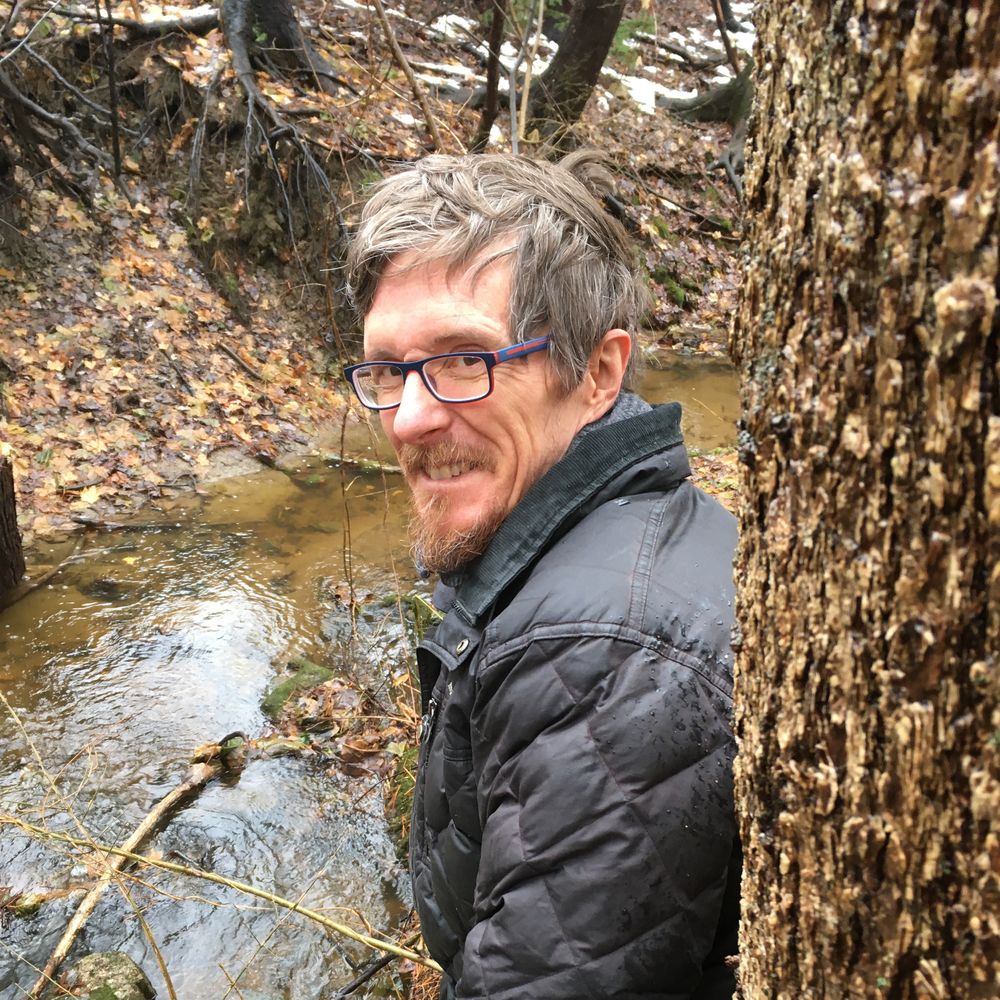 Glenn Smith has led participatory music and movement with kids at museums, libraries, summer camp, and at numerous schools. Glenn has been playing music for 35 years, creating music for dance and theater performances as well as performing solo and with various groups. Glenn has made numerous CD's inluding co-authoring the kid's CD "Roosters, Ravens, and Redwood Trees." Glenn has studied vocal improvisation with Bobby Mcferrin and others and leads community "Vocal Voyagers" circles. Glenn holds a B.A. in Sociology from Stanford University and is a substitute teacher in western Massachusetts.
To talk about arranging a visit to a school, or for any questions, email Glenn Smith at musicglenn@yahoo.com.