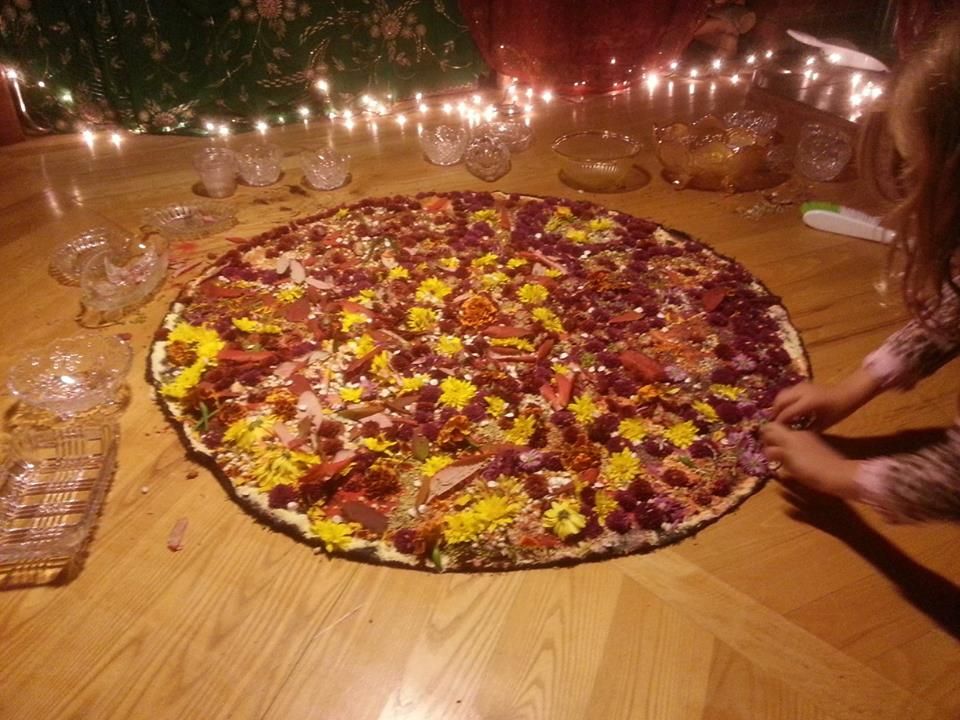 mandala dance
What makes this dance unique?
Our mission is to build a strong community that is well connected and delights in getting together on a regular basis to create connection through co-creation of dance, music, songs and ritual.
We provide a safe sacred uplifted space for the community that supports ecstatic dance, spontaneous creative expression, facilitates heartfelt connections and appreciation for a community ritual. The dancing space is carefully decorated for each event which sets up a celebratory atmosphere. 
We start with a mellow dancing warm up, followed by a welcoming circle that creates a sacred space. The circle is followed by a guided meditation that grounds participants in their bodies and gets them moving. At this point participants are invited to co-create a sand Mandala placed at a well lit location in the room. The flow of the event is facilitated and yet it allows a free flow and spaces for improvisation.
The musicians and instruments vary each time and include drums, percussions, harp, violin, flutes, piano and voices and much more. The natural flow ranges from wild ecstatic drumming to moments of silence and even spaces for spontaneous community co-created poetry. The participants can express them selves through many avenues: from dancing, percussion and singing, to sand Mandala co-creation.
The evening is concluded by a closing circle when the sand mandala is dissolved in a community ritual, manifesting the joy and impermanence of our experience.
One unique aspect of Mandala Dance is that it serves as a bridge between many communities that find their expression here: from the Contact Improvisation Community, Earthdance, Dance Spirit, Drum and Dance, Fire circles, members of the Sirius community as well as local families etc… We are kids-friendly event and we usually have several families with children attending. Some of the parents commented on how much our event helped their children open up and encouraged their spontaneity.
The members of our team:
Jon Just Jon: Jon is a drummer, percussionist and musician. He leads the drums for Mandala Dance, and together with John, Glenn & Lisa they facilitate musicians for the Mandala Dance.

Lisa Bouchie:  Lisa's gift to the dream is creating sacred containers, visually, musically, energetically.  As a believer in the direct line between spirit and creative process, she brings the mandala as a way to help manifest prayers and dreams in the presence of community.

Hilary Lake: Hilary is a seasoned contact improvisation dancer, community interfaith minister at Nine Mountain Retreats next to Earthdance, and healing artist through sacred dance and song, leads our guided meditations at the beginning, facilitates sacred songs.

Glenn Smith: Glenn is a musician, improviser, and dancer.  He also facilitates Vocal Voyagers improvisation circles open to all.  He helps oversee the flow of the music and coordinates invited musicians. 

Sarah Monette: Sarah is the gate-keeper, organizer and innovator of our dance. She organizes our volunteers and contributes to the overall esthetics of the space. Her daughter Marquetta inspires us all.
John Genyo Sprague:  John has been creating improvisational music for dance and contemplation for 25 years, working extensively as an accompanist and composer in colleges and at dance jams, as well as leading movement workshops around New England.  He is also a dharma teacher and ceremonialist, and brings his long experience to our core group, invoking and helping maintain the flow of spirit energy throughout the dance.
Mandala Dance Boundaries and Sexuality Policy
At Mandala Dance we strive to create a safe and sacred environment where all participants are able to trust they can express themselves without facing judgement.  We ask everyone to take responsibility for their own experience, to honor their own individual needs and boundaries, while respecting others' personal space and needs.  When sexual energy arises, we request that you channel it into the dance, music, creative expression and meditation rather than into arousing intimate sexual exchanges. Our creative sexual energy is a gift of vital life force that strongly affects ourselves, environments and others. Expression arising out of this energy is most beneficial when done with care and consciousness for the well being of all.  
If you have any questions, or need support arising out of anything happening in the context of Mandala Dance, please speak with one of our designated safety team members, or a member of our Core Group.   
Thank you for honoring yourself and all others in the sacred space that we co-create together.  
Guidelines For Children
Please discuss with your child what maintaining sacred space means before entering the Mandala Dance space. This will help us in making sure to maintain sacred space once it is created. Perhaps letting them know if they need a break and need to have a conversation, that you can both go down stairs.
Please be respectful of others within the sacred space. Some may be meditating, praying or working on art prayers.
Please be with your child and guide your child 100% of the time, this includes being downstairs in the break room area and cleaning up after your child. We do not want to have to track down parents during the middle of Mandala.
Please respect and teach that the sand art mandala is a place of sacred prayer through art and that the art materials are to be used as sacred tools. We've had issues lately where this has turned into a "sand box" kind of toy and that is not the intention of our Mandala, and it leaves no room for others to create their own prayers throughout the night. Once you create your art prayer, please move away from the Mandala so that others may have a turn.
We've asked that no running wildly through the dance crowd, which can be dangerous to both dancers and smaller children who can't be seen.
Please be aware of your surroundings where safety is concerned. Down stairs candles are sometimes lit. Wood stoves, staircases, electrical cords and such, can make for dangerous situations and we have been asked to have a talk with parents on safety concerns.
When asked for moment of silence, please make sure your child knows how to maintain silence, or please leave the room so we can maintain focus.
Please note that our Mandala core group maintains the right to ask you to take your child out of the space.
We appreciate your support in helping to make Mandala a sacred and safe space to be in.
Please leave suggestions for us if you will at mandaladancers@gmail.com
Mandala Dance Guidelines:
1. We endeavor to cultivate a sacred environment. Please keep social and casual conversation outside the dance space. Feel free to remind others of this when they want to talk with you.
2. Be mindful of the available space around you and the need for each person's sacred space.
You may need to adjust your dance to be safe. Please move interactions beyond focused movement to the side of the room for massage for example.
3. You are responsible for your own physical safety on the dance floor.
You are interacting with dancers of varied skill, ability and experience. Be aware of what is comfortable for your body while you dance. Communicate that to your dance partners and be attentive to what your partner(s) are expressing, which can happen all without words.
4. Listen to and respect your own boundaries.
The connection that we experience here is outside of societal norms for touch. Everyone has the right to break off contact with any body at any time without having to give a reason for why. Listen to yourself as much as possible and respect your own feelings. In addition, listen to your partner's verbally or non-verbally expressed boundaries.  We also ask that we consider the presence of children in the space and help to create a clear, safe environment for them.
5. The dance itself constantly changes and requires tuning in.
Observing the dance is a good way to participate in and support the space. It is also an excellent opportunity to learn. If you want to join a dance, watch and sense when or if there might be an opportunity to enter. You can always solo and switch partners as often as you wish. Remember, the floor is your first partner.
6. There is no right way to engage in Mandala Dance.  It is a journey through self-expression into awakening!  Explore and Co-Create! You can always ask one of the Mandala core team members for help.
More about the history of Mandala Dance:
The first Mandala Dance took place at the Greenfield Community Yoga in June 2012. We had about 25 dancers show up. Since then we have organized many Mandala Dances. The number of our participants and fans have grown since then.
As we continued expanding we have hosted many accomplished musicians that welcome our format as a fresh musical experience, different from their usual performances.
In September 2013, Mandala Dance received a grant from Ritual Arts Collective community to support our mission and to bring more experienced musicians to our events.